Does your kitchen look more like the set of a 1980s sitcom than the sleek, efficient, and stylish hub of your home? Maybe you've considered giving it a little – or big – facelift, but just aren't sure where to start. Sure, the "before and after" pictures on those home improvement web sites are stunning, but the thought of starting a kitchen remodel can be downright overwhelming. And given the investment required, it's definitely not something you want to jump into uninformed.
So before you hire a contractor and start swinging that sledge hammer, here are some things to consider.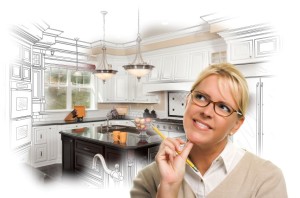 Budget – This may seem like an obvious starting point, and yet many kitchen remodeling projects go over budget, sometimes by thousands of dollars. Factor "surprises" into your budget, especially if you're opening up walls or changing the footprint of the space.
Stated Reason – Are you updating to make the space work better for you and your family or more for increased resale value? If it's the latter, consider speaking with a real estate professional about what upgrades buyers in your neighborhood are looking for. You want to make your home desirable without going overboard.
Use – How does your household use the kitchen or how do you wish you all could? If you're an entertainer at heart, maybe an open layout, large French door refrigerator, and lots of prep space are important to you.
Style – Do you prefer a modern look with simple lines and sleek surfaces or is traditional more your style? If your dream cabinets, counters, and flooring are out of your price range, look at alternative materials that still deliver the look you want for a fraction of the cost.
Storage – Even a small kitchen can have tons of storage space if you make the most of the space you have. Upper cabinets that reach to the ceiling can hold seasonal or special occasion dishes, platters, and other items. A small rolling island or cart offers extra prep space and storage, while a small bistro table with a drop down side offers casual dining for two.
If you ultimately decide on a project bigger than changing out cabinet hardware, Boden Plumbing can prove to be an excellent resource for you, complete with helping you select just the right appliances and fixtures.  On the plumbing side, our many kitchen upgrade services include hooking up your new ice-making refrigerator, adding a new gas stove connection, installing all the plumbing for your new island sink, and much more.  Contact Boden today for professional advice and outstanding results.