Clogged Drain Sonoma County | Clogged Sewer Sonoma County
Stubborn Clogged Drains or Toilets Don't Stand a Chance Against Boden!
We encounter more than our fair share of "sticky situations," to put a delicate spin on it. Because let's face it, there's nothing fun or pretty about a clogged drain, toilet, or sewer. Still, it's a problem that needs to be taken care of, both quickly and effectively.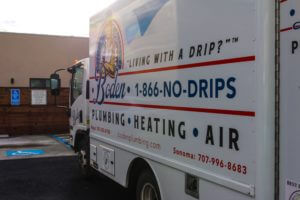 When you call Boden, we come prepared to roll up our sleeves and get the job done….there are times when we even need to roll up our pant legs.
What makes us so confident in our ability to solve any size or type of sewer or drain problem? For starters, we're thoroughly trained for whatever might be causing your drain or toilet to back up. We also have a ton of sewer and drain cleaning experience.
Of course, sometimes, training and experience aren't enough. Not for the really tough problems. That's when we bring in the "reinforcements", including:
In-line video inspection camera so we can spot the exact location and extent of the problem before taking any further action. That frequently saves us time, and you money.
High pressure water jetting to clean out grease and dirt that may have built up in your line. This process results in end-to-end cleaner sewer or drain lines.
We also offer pipe repair and replacement services when drain cleaning alone isn't enough.
The best time to call us to report a problem? Before a clog gets so bad that water can no longer pass through it. Because the longer you wait, more often than not the problem just gets worse.
Contact Boden today to report any sewer or drain issue you might be having, and we'll take it from there.
New Equipment For Sewers and Drain Cleaning
Here is a video of the machine in action:
Here is a video of it descaling cast iron pipes: