Company Profile
A Local Plumbing Fixture, And Then Some.
Boden Plumbing is an established family owned and operated company founded by Terry Boden in 1992 after many years of experience plumbing in the San Francisco Bay area.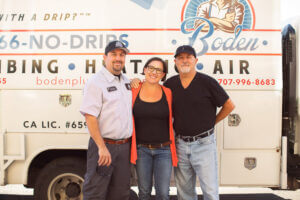 Today, we also offer a full complement of heating and air conditioning services, and we have you to thank for that. Over the years, you see, more and more of our customers urged us to broaden our base so we could more completely serve their home comfort needs. We can't imagine a nicer or more convincing compliment than that.
So now, you have more reasons to choose us than ever. And yet, certain things – the really important things – haven't changed at all, such as:
Same-day service whenever possible, and not just for emergency calls.
No extra charge for Saturday service.
Ongoing training for every employee
Answers to all your questions to help you make more informed decisions…we want to be your home comfort partner, not just your service provider
We use only high quality material and parts for better and longer-lasting results
For excellent quality, convenience, and affordable solutions to your plumbing, heating, and cooling needs, count on Boden to meet or exceed your expectations. Every time.